Contact Us
We want to hear from you.
Contact info
Main office
8430 SW Hunziker
Tigard, Oregon 97223
Telephone: (503) 684-3460
Fax: (503) 684-0954
Email: .(JavaScript must be enabled to view this email address)
Office Locations
Carlson Testing's Main and Geotechnical offices are located in Tigard, Oregon with branch offices in Salem, Bend and Eugene, Oregon.
Tigard, OR
Geotech Office
7185 SW Sandburg St, Tigard, OR 97223
Call: (503) 601-8250
Email: .(JavaScript must be enabled to view this email address)
Tigard, OR
Main Office
8430 SW Hunziker, Tigard, OR 97223
Call: (503) 684-3460
Fax: (503) 684-0954
Email: .(JavaScript must be enabled to view this email address)
Salem, OR
4060 Hudson Ave NE, Salem, OR 97301
Call: (503) 589-1252
Email: .(JavaScript must be enabled to view this email address)
Eugene, OR
89970 HWY 99, Eugene, OR 97402
Call: (541) 345-0289
Fax: (541) 683-5367
Email: .(JavaScript must be enabled to view this email address)
Bend, OR
35 SE Bridgeford Blvd, Bend, OR 97702
Call: (541) 330-9155
Fax: (541) 330-9163
Email: .(JavaScript must be enabled to view this email address)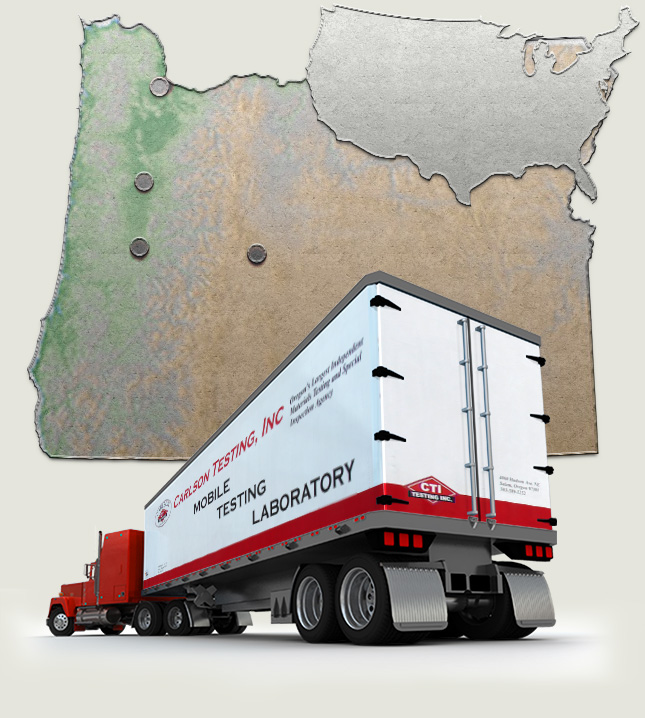 Have mobile labs, will travel.
Carlson has seven fully equipped mobile laboratories to serve on your ODOT, FAA, U.S. Army Corps of Engineers, and other remote projects. These facilities are capable of performing a wide range of soils, concrete, and asphalt related tests. If you are not close to one of our permanent facilities, these traveling laboratories will fulfill your testing requirements and save costs by reducing unwanted travel expenses.